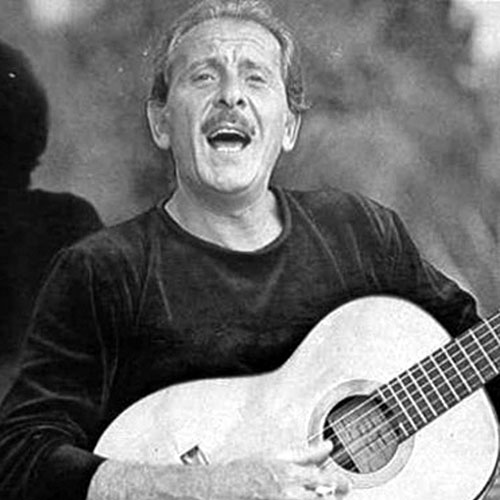 "Nella notte, mentre tutti dormono, solo un uomo cammina per le strade è un uomo in frack…" (in the night, while the people are sleeping, alone a man walks in the streets, a man in tails)

I must be honest: I asked to write about this song. I wanted to be myself to spread the wish to listen to it again and again, paying attention to the beauty of  this song's words. I wanted to talk to you what this song has represented for me and for all the people who love Modugno.
"Vecchio frack" was written in 1955 by Domenico Modugno, perhaps the best among his masterworks. The song is surrounded by a deep melancholy from the beginning 'till the end.
I was 5, perhaps 4 and like any other "restless" child I didn't want to go to bed. My mum had to force me to, giving me a kiss, putting me under the blankets, but I was very wild. I could find any kind of excuse to stay awake and playing, dancing, singing. My mother was hopeless and after having tried all the possible lullaby, she had a great idea:  on TV there was a program on air with Modugno singing this beautiful song.
"Nella notte, mentre tutti dormono, solo un uomo cammina per le strade è un uomo in frack…"
This was the magic formula:in that precise moment, even though I couldn't understand all the words… my eyes began to bright and then, slowly….I fell asleep.
It  became a little habit… I wanted that song, those words, the slow and enchanting  rhythm.
In the video above, you can appreciate the great live attitude of Modugno. I love live videos, with all the noise, those powerful vibrations from the audience… and the figure of Modugno is thrilling… in particular, I would like to underline that he was used to play the guitar with the thumb to soften the sound.
The inspiration for this song came from a suicide: a noble,  Principe Raimondo Lanza di Trabia, 30 years old, of the aristocracy of Rome, who after  few months from the marriage with the actress Olga Villi, jumped from a window of his mansion in Via Sistina.
The song reached the top of the charts only in 1959 when Modugno had established his position in the musical context thanks to  "Nel blu dipinto di blu" (1958)  and "Piove" (1959).
The success of "Vecchio frack"  invaded Spain, France, Greece, Brasil and many other countries with various cover versions.
http://www.pianosolo.net/wp-content/uploads/2011/10/logo-pianosolo1.png
0
0
Bill
http://www.pianosolo.net/wp-content/uploads/2011/10/logo-pianosolo1.png
Bill
2010-07-11 13:06:22
2010-07-11 13:08:56
Vecchio Frack- Domenico Modugno (piano sheet)