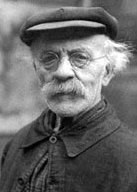 A few days ago a friend of mine asked me: "Why don't you write something aboutThe Internationale?" – "The Internationale?" I answered surprised – "Are you talking about that communist song (can I still use this term?), which lately became workers hymn all over the world?" – "Yes, precisely that". Well, I told myself, but where to start? We begin with a little history.
We are in 1871, Parigi is getting into a big tizzy, when Eugène Pottier, worker and revolutionary poet, finds words to describe the amazing journey undertaken by members of the Paris Commune, an adventure made of fights, ideals, deaths, until the dramatic defeat.
The text, set to music only in 1888 by Pierre Degeyter, has passed by several changes, that is why today we have countless versions. It's to notice the classic Italian version, the one that still continues to be sung in closing, alas, and increasingly rare companions gatherings, disillusioned and nostalgic of times gone by. Unfaithful to the original text, this successful version was published for the first time in 1901, in the pages of a satirical newspaper called L'asino (The donkey).
In 1994, few months before his death, the great poet Franco Fortini gave us his latest version of the anthem, after interpreted by storyteller Ivan della Mea and contained in the album "Ho male all'orologio" (I have colckache) exited in 1997.
Even with different tones and shades, each version of the text focus on the same idea, union to resist, that one that moves workers outside factories and countryside aware, believing we could overcome injustices and therefore inequalities between classes, just erasing internal discord in the Movement.

Today reading the Internationale text implies, at best, a sudden burst of hilarity (furthermore the image of some bearded fellow, with a trembling voice, bright eyes and his left fist raised, can not fail to evoke a nostalgic anachronism, the last clumsy attempt to say "We still exist"), but at worst, hilarity gives way to bitterness. The world of work seems so divided as never before, fragmented into many splinters, that appear like really having nothing to share one with the other, if not not payments of Plasma TV or endless queues on the motorway to taste the sun of the eagerly-awaited weekend .
Oh yes, those little 'funny' verses are far, that describe the safe ingenuity of utopia, a different society, sealed by the real alliance of workers. Long gone these verses, when we see the deaths at Thyssen in Turin, precarious workers in call centres, tomato pickers in the fields of Puglia and even workers deaths inside abusive construction site, underpaid researchers in universities.
Maybe my friend was waiting for something different, an article limited to mere historical curiosity, but as you see, it is always difficult to pretend that the direct line that links music and society do not exist. A link that may help us understand our history and maybe even history of those who came before us.
Here's to you the score of the workers hymn, The Internationale, download it here

Listen to the song in Italian:
http://www.pianosolo.net/wp-content/uploads/2011/10/logo-pianosolo1.png
0
0
Bill
http://www.pianosolo.net/wp-content/uploads/2011/10/logo-pianosolo1.png
Bill
2009-11-05 15:56:11
2009-11-05 15:56:11
The Internationale, workers hymn - Sheet, history and toughts